As Temperatures Continue To Stay High, Here Are Some DIY Tips To Keep Your AC Unit And HVAC System Running In Tip Top Shape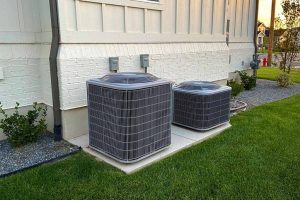 With most days still hitting the 100-degree mark, temperatures are staying high!  This means it is important to ensure your AC system is working as it should be and continues that way throughout the season.
Of course for any major issues or repair, your best bet is to have us out to take a look.  Any serious repairs or problems should be handled by a professional. However, there are some general DIY tips that can help keep your AC running in top form throughout the year.
Check and change your air filter
This is the primary DIY HVAC maintenance tip for all homeowners.  A dirty filter can lead to much worse problems in the future so ensuring that they stay replaced regularly is of critical importance to the overall functionality of your AC and furnace.  The general rule of thumb here is to replace them every 90 days but if the air is smokey, dusty or there is an excess of pollen or allergens in the air, you may want to be more liberal with that number.
If you've never replaced a filter before, it is typically a straightforward process.  In your home, there will likely be a grate that is larger than the standard vents – that is your intake for the system.  This is likely where your filter is located so it's just a matter of opening this intake vent, removing the existing filter, and replacing it with the same sized filter.  The filter itself should have some writing on it that indicates the size (for example, 20x10x1) however you can always take the old filter with you to your local hardware store to match it up in person.
If you don't remember the last time you changed your HVAC filter, then it's likely past due for a change.
Make sure your vents aren't clogged
Ensuring that your vents are free of debris is another important general maintenance step.  Often times, vents can trap excess dust and floor vents in particular can attract other types of debris such as dirt, crumbs, etc. And if you have kids or pets, your floor vents can even trap cereal bits or pet food.
Vacuuming your vents with a long host attachment equipped with the brush head is a great place to start.  This will allow you to get floor, wall and ceiling vents. Also, try opening your vents and shining a flashlight through them.  If you see something obstructing the ducting or if you're not getting much air from a specific vent, you can also try removing the vent and cleaning behind it.  Typically a vent is held in place as a pressure fit or with two standard screws so generally speaking it is easy to remove and put back for cleaning purposes.
Make sure your outside AC unit is free of debris
This step is something you should perform at minimum twice a year between seasons but it doesn't hurt to keep an eye on it throughout the season as well.  Your outside AC unit brings in air from a large fan and it is important that the fan area stays free of debris.  Also, most AC units have large heatsinks in the front and sides so it is important that leaves, dirt and other yard debris are cleared from its location. Generally speaking, you want a good couple of feet of clear space all around your AC unit. Keeping it free of debris also discourages mice, bugs and other pests from setting up shop inside of your unit.  Needless to say, that can cause all kinds of other issues that would be best avoided.
The summer season is still roaring so make sure to pay attention to your HVAC system so it can keep up with the heat!
And as always, if you have an issue with your AC unit, Bob's Air Repair is only a phone call away.