That First Time of The Season Furnace Smell!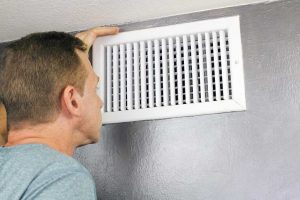 The colder nights are officially here and even the most stubborn holdouts are starting to change their HVAC system settings from air conditioning to heating.
Yes, it's the magic air-to-heat transition time where we stand by the thermostat and say "Wow, I can't believe it's already time to turn the heater back on, it feels like just yesterday when we fired up the AC!" Homeowners definitely know that feeling, and along with turning the furnace on for the first time of the season, comes that stale odor that reminds us that cold nights are here to stay.
A mild stale odor is actually normal.  From sitting all season, that first blast of heat from your furnace pushes out any sitting contaminants and as clean air is forced through the furnace once more, it will clear itself in reasonably short time of that 'first time of the season' smell.
However, that should subside fairly quickly and after that first day or so, be unrecognizable.  Ideally, the air coming from your HVAC system (AC or heat) should smell like… nothing.  No odor means your filters are working, your ducts are sealed and your HVAC system is doing its job keeping your air temperature-balanced and healthy to breathe.
So, what do you do if that smell persists?  Fortunately, there's a good amount you can do in order to alleviate unwanted odors from your HVAC system.
First, you want to ensure the basics are covered. The very first thing to check is your filter. It seems obvious, but even experienced homeowners can overlook this basic but critical step.  Visually inspect it for particles and if you see a gray film, it's time to replace it.
Then, you'll want to ensure your overall HVAC system units (furnace, AC unit, etc) are in proper functional order. You'll need an expert for this so this is something we can check for you with an onsite inspection and health-test of your system. No matter how clean your filter and supporting duct work is, a furnace or AC unit that is in need of repair can negatively impact the quality of your air and overall cost to heat/cool your home in a big way.
Next, you'll want to ensure your duct work is sealed and cleaned. Ducts that aren't sealed properly means bugs, rodents and airborne contaminants can enter and set up shop. Sealing and properly cleaning your ducts is the number one thing you can do to eliminate odors coming from your HVAC system if you know your units are functioning and filters are clean. If you don't remember the last time you got your ducts cleaned, then it's time to clean your ducts! We specialize in duct cleaning and sealing services so give us a call today to make an appointment.
Finally, there are some amazing addon technologies available today to help clean and filter your air beyond what your standard HVAC system can do on its own. This includes UV light filtration and Ionization cleaning techniques. These are options that we can install for you and will help pull allergens, pollutants and even virus particles out of the air prior to it exiting your vents (and entering your lungs!)
By ensuring your HVAC system is in top working order, you are ensuring the health of your family and minimizing the unexpected future repairs of your system. At Bob's Air Repair, we know HVAC and our technicians and service specialists are here to answer your questions and offer cost-effective and realistic solutions.
Avoid the odors and give us a call today.