The nights are still dropping down in the 30's, is your furnace and ducting keeping up with the cold?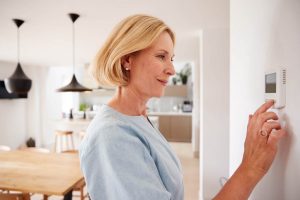 It's a new year and we're all looking forward to better spring weather. That said, we still have another couple of months of nightly temperatures dropping down into the 30's and 40's, is your furnace and forced air system keeping up with the cold?
Making the decision to repair your furnace in the lead up to the colder season is a pretty obvious approach however, towards the end of the season, we often see people with inefficient or non-functional furnaces bearing it out waiting for the weather to get better without addressing those issues.  The problem with that approach at this time of year, is that there's still a ways to go before a better-weather reprieve.   This means your furnace and ducting need to be functional, both for the sake of comfort and heath.
A look back at the weather from last couple of months show more of the same is in store. The good news is that right now is the perfect time to get your furnace back in fighting shape and getting your duct work sealed and ready for action!
If your furnace is not putting out the kind of pressure you expect from your forced air system, or if the air itself is not seeming to match the temperature of your thermostat, there could be a couple of issues going on with your HVAC system:
Your furnace needs repair or replacement.
A failing furnace can be the cause of these issues and depending on the age of the system and what is involved with repairing it, it may be time for a new furnace installation or furnace replacement.  At Bob's Air Repair, our staff is licensed and ready for furnace installations in your home or business.
Alternatively, we may be able to get your existing furnace back up and running through a replacement of specific HVAC system parts or an adjustment of your overall system.  This is something we can determine for you with an on-location repair call and examination of your HVAC system by one of our expert HVAC technicians.
Your ducting needs to be sealed and repaired.
A loss of heat during colder nights can also be attributed to the duct work in your home or business being subject to breaks or leaks.  Leaky ducts are one of the leading causes of energy inefficiency in your HVAC system as well – meaning leaky ducts = a leaky wallet!
Our state-of-the-art duct sealing process that measures and fixes otherwise undetectable leaks is called Aeroseal™.  The Aeroseal process includes a full analysis and loss measurement of the forced air coming from your furnace and going to the rest of your rooms via your vents.  This system is perfect this time of year since it can address hidden leaks that would be otherwise very invasive to fix manually.  This means even in the colder weather, we only need typically one day of work to fix the entirety of your ducting system.
A functional HVAC system with a reliable furnace is one of the most important aspects of a home to ensure is working properly.  Not only do you rely on your HVAC system to keep you comfortable, but also to keep you healthy with clean filtered air.
If you are having issues with your furnace, don't wait!  Give Bob's Air Repair a call today and let our friendly neighborhood HVAC technicians help get you back up and working. Your family will be happy you did.